Echo Summit Waterfalls
If you love waterfalls, Highway 50 over Echo Summit is a wonderful place to find them. A few are right along the highway and easily viewed. Others are tucked away in the forest and may require a little hiking. No matter which ones you choose, be sure to take your camera.
Extreme caution should always be used when hiking around waterfalls. Never venture close to the water's edge at the top of a waterfall.
Upper Truckee Falls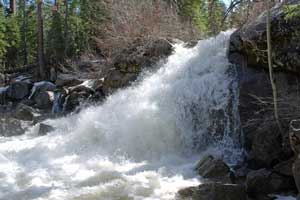 Location: Upper Truckee River near Meyers
Height: 20 feet

A beautiful cascade on the Upper Truckee River best viewed in the spring when runoff is high. Hike from the Hawley Grade trailhead off South Upper Truckee Road. Before the Hawley Grade Trail makes its sharp turn, veer off toward the river, picking up a use-trail that parallels the river. It's only a quarter miles to the falls. See Echo Summit Day Hikes for a map and more details about hiking in the area.
Horsetail Falls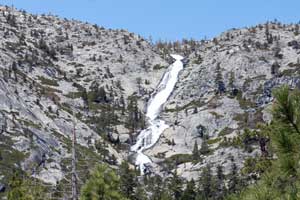 Location: Highway 50 at Twin Bridges
Height: 500 feet

Horsetail Falls are among the most spectacular waterfalls in the Echo Summit area. The Pyramid Creek Loop, an fairly easy hiking trail below the falls, provides nice views of the cascade. More ambitious hikers can take a connecting trail up the canyon to the top of the falls. See Echo Summit Day Hikes for a map and more details about hiking in the area.
Silver Fork Falls
Location: Silver Fork of the American River, south of Kyburz
Height: 20 feet

This pretty little falls tumbles over and around large polished granite boulders.
Twin Lakes Waterfall
Location: Twin Lakes, a 3.2-mile hike from Wrights Lake
Height: 200 feet

Twin Lakes Waterfall spreads into a multitude of sparkling strands as it weaves its course down the granite slopes below Mt. Price on the Crystal Range.
South Silver Creek Falls
Location: Upstream from Ice House Reservoir
Height: 65 feet

South Silver Creek plunges through a long gorge between Wrights Lake and Ice House Reservoir. Along its course are numerous waterfalls, including the main 65-foot drop. Experienced kayakers challenge the river and its many drops.
Bassi Falls
Location: On Bassi Creek, 2.5 miles east of Union Valley Reservoir
Height: 110 feet

Turn off Ice House Road at Union Valley Reservoir onto Forest Road 12N32A. Soon afterward take a left turn onto a rough dirt road and follow it about 2 miles. A short trail leads to the falls. You can follow a trail up to the top if you choose.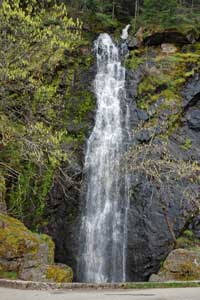 Bridal Veil Falls
Location: Along Highway 50 near Pollock Pines, 1.75 miles east of the Pacific Ranger Station
Height: 85 feet

Signs along the highway announce the falls and a large turnout makes easy parking. When you are headed east, the falls is on the right side of the highway.
Sonora Pass Waterfalls

Looking for more waterfalls? Highway 108 over Sonora Pass winds past a number of spectacular waterfalls, some so well hidden that they are rarely seen by most travelers. For pictures and descriptions, see Sonora Pass Vacations.