Forest Service Ranger Districts
Highway 50 from Placerville up over Echo Summit and down to Lake Tahoe passes through several Forest Service ranger districts and jurisdictions. On the west slope the Placerville Ranger District covers the lower portion of the area while farther up Highway 50 is the Pacific Ranger District. Once across Echo Summit you enter the Lake Tahoe Basin Management Unit.
Eldorado National Forest Offices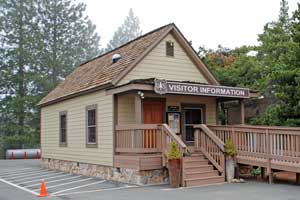 ElDorado National Forest Visitor Information
(530) 644-6048
Placerville Ranger District Office
4260 Eight Mile Road, Camino, CA 95709
(530) 644-2324
Office Hours: 8:00 AM to 4:30 PM, Monday - Friday, closed holidays
Eldorado National Forest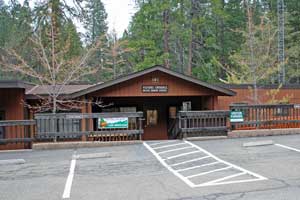 Pacific Ranger District Office
7887 Highway 50, Pollock Pines, CA 95726
(530) 644-2349
Office Hours: 8:00 AM to 4:30 PM
Fall Schedule (after labor Day): Open 6 days a week
Winter Schedule: Monday - Friday
Eldorado National Forest
Campfire Permits and Wilderness Permits are available at both offices.
The Placerville and Pacific Ranger District offices also have available various forest maps, books, pamphlets, and flyers. Forest Day Use Passes are needed in the summer and fall for use of the following parking areas: Pyramid Creek, Lovers Leap Campground, and Eagle Falls at Emerald Bay The passes cost $5 a day. Annual day-use passes may be purchased for $20. During the Sno-Park season (Nov. 1 - May 30), a Sno-Park pass is needed at the Echo Lake SnoPark. These may be purchases at the Placerville or Pacific Ranger Stations and other locations. For more information about Echo Lake Sno-Park, see
Echo Summit Snow Play.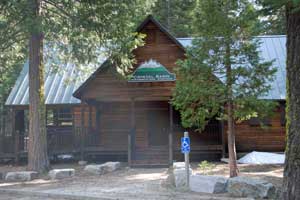 Crystal Basin Information Center
The Crystal Basin Information Center is open during the summer. It is located along Ice House Road midway between Ice House Reservoir and Union Valley Reservoir.
Eldorado National Forest Interpretive Association (ENFIA)
ENFIA is a nonprofit organization that helps the El Dorado National Forest serve the public. They assist in informing visitors about natural history, history, and special features of the forest. They make available books and other forest-oriented merchandise.
ENFIA
Lake Tahoe Basin Management Unit
35 College Drive, South Lake Tahoe, CA 96150
(530) 543-2600
Lake Tahoe Basin Management Unit
Hours: Monday - Friday, 8:00 AM - 4:30 PM
The Lake Tahoe Basin Management Unit includes about 190,000 acres around Lake Tahoe, both in Nevada and California. They are responsible for the conservation, preservation and restoration of the Lake Tahoe watershed ecosystem within Forest Service lands. These lands include the Echo Lakes area, the eastern slope of Echo Summit, and all of the Meiss Country (Upper Truckee River, Dardanelles Lake, and Round Lake).