Restaurants
Like most other services along Highway 50 leading up to Echo Summit, most of the businesses are found in the vicinity of Pollock Pines and then again around South Lake Tahoe. In between are a few great little places worth visiting.
Pollock Pines Restaurants
Fifty Grand Steakhouse
6401 Pony Express Trail, Pollock Pines, CA
Steals and ribs and more
C & T's Restaurant
6454 Pony Express Trail #37, Pollock Pines, CA (530) 644-0105
A local favorite breakfast stop
Pizza Factory
6536 Pony Express Trail, Pollock Pines, CA (530) 647-1944
Pizza Factory
Fresh Pond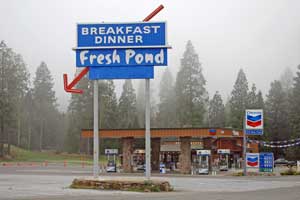 7720 Highway 50, three miles east of Pollock Pines
(530) 644-7663
Restaurant and gas station
New Haven Pub & Grill
6022 Pony Express Trail, Pollock Pines, CA (530) 644-3448 - Wednesday - Sunday, 11:00 AM to 8:00 PM Casual dining, lunch, and dinner.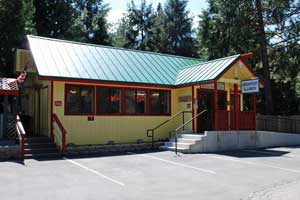 Kyburz
Silver Fork Cafe
13220 Highway 50, Kyburz, CA (530) 293-3511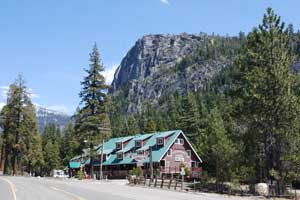 Strawberry
Strawberry Lodge
17510 Highway 50, Strawberry, CA (530) 659-7200
Breakfast, lunch, and dinner; bar
Strawberry Lodge
Sierra at Tahoe Ski Resort
Restaurants only open in the winter and spring during the ski season.
Sierra at Tahoe Restaurants
Base Lodge
Mama's Kitchen: Complete breakfast menu, lunch soups, chowder, chili, and much more
Java Junction: Specialty coffees, bagels, and more
Sierra Pub & Deli: Wine and spirits, clam chowder, paninis, salads, specialty sandwiches
Aspen Cafe: Burgers, hot dogs
Tiki Bar and Grill: Steak sandwich, pulled pork, ribs, great drinks
Happy Hippie: Wraps, hummus, sandwiches, soups, and more
Other Locations at Sierra at Tahoe
Smokehouse BBQ: Located inside Grandview Lodge - BBQ favorites, pulled pork, ribs, and more
Baja Grill: Located at the bottom of West Bowl - Tacos, quesadillas, burritos
Echo Lakes
Echo Lakes Chalet
9900 Echo Lakes Road, Echo Lake, CA (530) 659-7207 (8:00 AM to 6:00 PM, summer only)
Echo Lakes Chalet
Soda Fountain and Deli. The Deli makes sandwiches to order during midday hours.
Meyers
The Getaway Cafe Lake Tahoe
3140 Highway 50, South Lake Tahoe (located in Meyers near the Luther Pass turnoff)
(530) 577-5132
Breakfast and lunch daily beginning at 7 AM, dinner Wednesday - Sunday beginning at 4 PM
The Getaway Cafe Lake Tahoe