Echo Summit Boating
Boating opportunities along Highway 50 leading up to Echo Summit are mostly in the Crystal Basin where the array of lakes offer a variety of places to enjoy the water. Kayakers and rafters plunge into the American River as it winds its way down the canyon from the high country. Other smaller lakes such as Jenkinson Lake make wonderful places to spend a day paddling across pristine waters and exploring hidden coves.
Union Valley Reservoir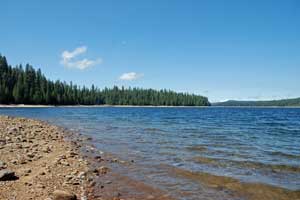 Location: 15 miles north of Highway 50 in the Crystal Basin.
Types of Boating: All kinds - waterskiing, wake boarding, jet skiing, sailing, canoes, kayaks
Union Valley Reservoir rests at an elevation of 4,900 feet. Its 2,890 surface acres spread among beautiful forests and granite peaks. The reservoir belongs to the Sacramento Municipal Utility District (SMUD), as do all the reservoirs in the basin.
Launch Ramps are located at Sunset Campground, Yellowjacket Campground, and Westpoint Campground. They are all free.
Ice House Reservoir
Location: 12 miles north of Highway 50 in the Crystal Basin.
Types of Boating: All kinds - waterskiing, wake boarding, jet skiing, sailing, canoes, kayaks
Ice House Reservoir's 678 surface acres are a favorite destination for anglers. All kinds of boating are allowed in the lake, making it a popular destination for water skiing and jet skiing. Sailors enjoy the brisk afternoon breezes.
Launch Ramp is located at Ice House Campground, paved, free.
Ice House Resort Boat Rentals
9000 Ice House Road, Pollock Pines, CA
(530) 293-3321
The resort is open from mid-May through mid-October.
Boat Rentals:
Single Kayak - $50 per day, $110 for 3 days
Double Kayak - $70 per day, $175 for 3 days
Single Fishing Kayak - $75 per day, $175 for 3 days
Paddle Board - $40 per day, $100 for 3 days
Wrights Lake
Location: 8 miles north of Highway 50 in the Crystal Basin.
Types of Boating: Non-motorized boats only
Wrights Lake is at 6,900 feet, only a couple of miles west of the Desolation Wilderness. The 65-acre lake is less than a mile long with about 2 miles of shoreline. Cabins line the northern and eastern shores.
Canoe Dock near campground, no launch ramp
Loon Lake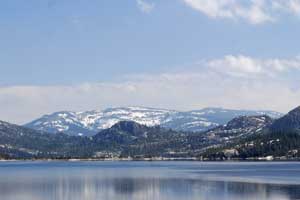 Location: 29 miles north of Highway 50 in the Crystal Basin.
Types of Boating: all types, including jet skis and waterskiing, but most popular with kayaks, canoes, and sailboats
988-acre Loon Lake is at an elevation of 6,500 feet with 10 miles of shoreline. Pleasant Campground is a boat-in campground with primitive sites on the northeast shore of the lake. It has 10 sites with picnic tables, grills and fire rings. there is no piped water or toilets. Sites are first come, first served and are free.
Launch Ramp is on the south shore, near Loon Lake Campground - paved, free.
Jenkinson Lake
Location: Sly Park, south of Pollock Pines
Types of Boating: Waterskiing, wakeboarding, sailing, canoeing, kayaking - but no personal watercraft (jet skis).
Jenkinson Lake is owned by the Eldorado Irrigation District. They charge $10 for a day use entrance fee and a $9 fee for launching a boat. Seniors 62+ or disabled pay $8 entrance and $7 to launch a boat.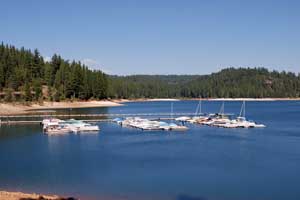 Boat rentals are available at Jenkinson Lake on weekends from Memorial Day weekend through Labor Day from 9:30 AM to 4:00 PM at the Stonebraker Launch Ramp.
Canoes (2-3 people) or single or double Kayaks - $15 per hour, $35 for 4 hours, $50 for 6½ hours.
Paddle Boards (1 person) - $20 per hour, $50 for 4 hours.

Launch Ramp: Stonebraker Boat Ramp, 2 miles from park entrance.
Echo Lakes
Location: Echo Summit, north of Highway 50
Types of Boating: All types, including jet skis and waterskiing.
Echo Lakes are part of the Tahoe Regional Planning Agency's jurisdiction. As a result, all motorized boats must be 4-stroke or direct fuel injected 2-stroke engines. Waterskiing, wakeboarding, and jet skiing are only allowed from 9:00 AM until direct sunlight leaves Flat Pole Peak. Also, they are restricted to the lower lake.
Underwater rocks and other obstructions require caution while boating on Echo Lakes. The channel connecting the two lakes requires particular care when navigating.
Echo Chalet offer canoe and kayak rentals and marine services, including repairs and fuel.
Launch Ramp: Operated by Echo Chalet. Boat inspections for invasive plants and animals prior to launch. Trailered or motorized boats launch fee $20, car-top or inflatables that are non-motorized $10, canoes and kayaks $5
Launching Outside the Harbor: Non-motorized boats free (still need to be inspected)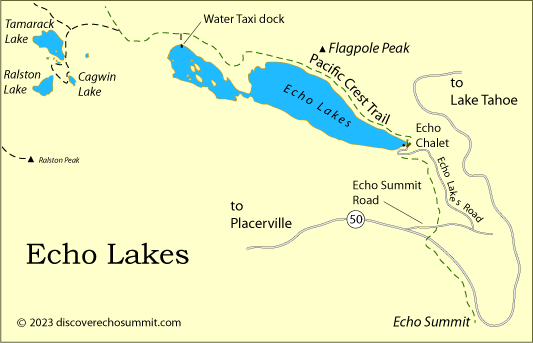 Other Boating Lakes
Gerle Reservoir: Crystal Basin near Loon Lake - non-motorized boats only.
Junction Reservoir: Crystal Basin - this 1.4 mile long afterbay of Union Valley Reservoir is perfect for canoes and kayaks.
Whitewater Kayaking
Expert kayakers take advantage of the spring melt runoff along the South Fork of the American River, beginning as high up the river as Lovers Leap. While some runs below Kyburz can be class III at lower flow levels, for the most part they are class IV and V (difficult to extremely difficult). There are places where there are extreme hazards requiring portages even for expert kayakers.
Experienced kayakers also ride the Silver Fork of the American River in the spring when water levels are optimum.