The Best Rental Cabin Places along
Highway 50 to Echo Summit

Renting a cabin - winter or summer - is one of the most economical ways to spend a weekend or a week in the mountains. The Highway 50 corridor leading up to Echo Summit has a limited number of vacation homes available for rent.
More rental cabins are found at lower elevations. The Pollock Pines and Sly Park area has the best availability. Moving up the American River Canyon there are only small clusters of homes in little places such as Kyburz and Strawberry. A few vacation homes in those areas can be found be searching sites such as Vacation Rentals By Owner (VRBO) or HomeAway. By crossing the summit and descending to the town of Meyers close to South Lake Tahoe, the number of rental properties available multiplies greatly.
Listed here are some of the areas where you may find cabins for rent.
Pollock Pines - Sly Park Area, elevation 3400' to 4000'
The vacation homes around Pollock Pines are close enough to Jenkinson Lake to make it a convenient day outing. Children will find plenty to do at the lake from swimming and fishing to boating and hiking. The cabins are low enough to be out of the heavy snow in winter and yet close enough to make a day in the snow an easy drive up the highway. 3-bedroom cabins can be rented for $100 to $200 per night or $600 to $800 per week.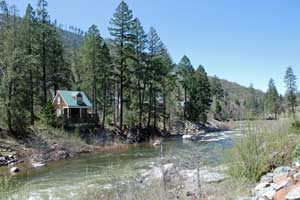 Kyburz - Strawberry - Twin Bridges, elevation 4300' to 6000'
Cabins near Kyburz, Strawberry or Twin Bridges are close to the American River. While Kyburz is just above the winter snow line, Strawberry and Twin Bridges are well above it. Nearby is the dramatic Lovers Leap, a favorite place for rock climbers. Echo Lakes, Echo Summit, Sierra at Tahoe Ski Resort, and winter snow play locations are only a few miles up the road. Lake Tahoe is an easy day trip from here. A 2-bedroom cabin rents for $125 to $150 per night.
Phillips, elevation 6950'
The small community of Phillips, just up the highway from Twin Bridges, is situated close to the entrance to Sierra at Tahoe ski resort. Properties there have plenty of snow in the winter and easy access to both the ski area as well as two developed snow play areas. Echo Lakes are only about 3.5 miles away.
Echo Summit, elevation 7377'
A few cabins are scattered around Echo Summit. The location is close to Echo Lakes, Sierra at Tahoe Ski Resort, snow play areas, trails into the Desolation Wilderness, and the Pacific Crest Trail. South Lake Tahoe is only a short drive to the east. A 3-bedroom chalet rents for $250 to $350 per night.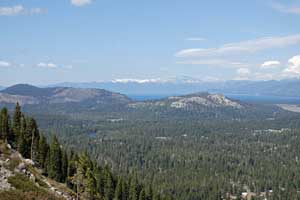 Meyers, elevation 6350'
The town of Meyers often gets overlooked in favor of its more famous neighbor, South Lake Tahoe. Meyers is located at the foot of Echo Summit at the junction of Highway 50 and Highway 89. Within the city are Tahoe Paradise Golf Course, Washoe Meadows State Park, and Lake Valley State Recreation Area. A 12 mile drive south on Highway 89 carries you to Hope Valley on the Carson Pass road. Vacation homes there rent for $100 to $400 per night or $550 to $1500 per week. The lower price range is more common.
Links to Area Vacation Home Rental Agencies
Miles to Popular Recreation Areas
| Community | Placerville | Union Valley Reservoir | Sierra at Tahoe | Echo Summit | South Lake Tahoe |
| --- | --- | --- | --- | --- | --- |
| Pollock Pines | 14 | 24 | 36 | 37 | 48 |
| Kyburz | 31 | 23 | 17 | 18 | 29 |
| Strawberry | 39 | 31 | 9 | 10 | 21 |
| Echo Summit | 49 | 41 | 1 | - | 11 |