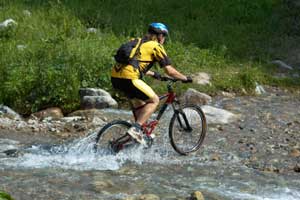 Mountain Biking around Echo Summit
With Forest Service roads criss-crossing much of Eldorado National Forest, there is never a shortage of places to explore by mountain bike. The Crystal Basin is loaded with dirt roads and single tracks. Higher on the pass explore the area around Sierra at Tahoe ski resort. You'll find many of the best routes here.
Lovers Leap
Distance: 1.6 miles one way
Elevation changes: 1,000 feet (5,900' - 6,900')
Starting Point: Strawberry Canyon Road trailhead off Packsaddle Road

This route leads to the summit of Lovers Leap, a popular rock climbing destination. Spectacular views of the American River canyon await those who reach the top. Although the trail continues beyond the top of the mountain to Camp Sacramento, mountain bikes are not allowed on that portion of the trail. On the approach riders will encounter sections of steep uphill combined with loose gravel, requiring dismounting and pushing. The return downhill trip is for advanced riders, technically very difficult.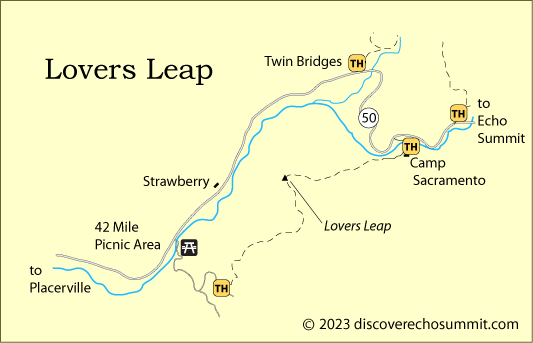 Bryan Meadows and Round Meadows
Distance: 4 miles one way
Elevation changes: +1,600 feet (6,900' - 8,500')
Starting Point: Sayles Canyon - Bryan Meadow Trailhead off Sierra-at-Tahoe Road.

Ride one mile up Sayles Canyon Trail along the creek to the junction of Bryan Meadows trail. Follow the trail to the east for 3 miles through forest, climbing steadily. The trail follows the ride at the top of several Sierra-at-Tahoe ski runs. At mile 3 you approach Bryan Meadow near the junction with the Pacific Crest Trail. (Remember that bikes are not allowed on the Pacific Crest Trail.)
From the same trailhead you can continue up Sayles Creek to Round Meadows, about a 3.5 mile ride.
Fleming Meadow
Distance: 8.8 miles of connecting roads and trails
Elevation: 3,700 feet
Starting Point: Off Mormon Emigrant Trail near Jenkinson Lake

The Fleming Meadow are is closed to motor vehicles and great for mountain bikers. Roads and trails wind through a thousand acres of forest and Fleming Meadow.
Map: Fleming Meadow Trail System
Bassi Falls
Distance: 2 miles one way
Elevation changes: +200 (5,000' - 5,200')
Starting Point: Millionaire Camp near Union Valley Reservoir

Make the easy 2 mile ride up to a viewpoint near the foot of Bassi Falls and then set out on adventures, exploring the dirt roads around Wench Flat (climbing 700 feet). Eventually follow the ridge road back down to your starting point.
Ice House Bike Trail
Distance: 3.1 miles one way
Elevation changes: Total climb +80 feet (range 5,400' - 5,480')
Starting Point: Ice House Road and Forest Road 12N06 (200 yards north of Big Hill Lookout turnoff))

The Ice House Bike Trail is a dirt trail along the shores of Ice House Reservoir. It can be accessed from any campground around the lake. The scenic trail follows ridges and shaded northern slopes, offering views of Ice House Reservoir and some peaks along the Crystal Range. The bike trail ends at Strawberry Campground. Ice House Bike Trail connects with other roads in the area.
Van Vleck Trailhead to Loon Lake
Distance: 4.5 miles one way
Elevation changes: +200 (6,300' - 6,800')
Starting Point: Van Vleck Trailhead on Cheese Camp Road near the Van Vleck Bunkhouse (not the winter trailhead near Loon Lake)

The trail to Loon Lake has a fairly steady, easy grade. It offers several scenic overlooks of the Rubicon drainage and Chipmunk Ridge. A good map of the area and a GPS would help in being sure you are on the right trail.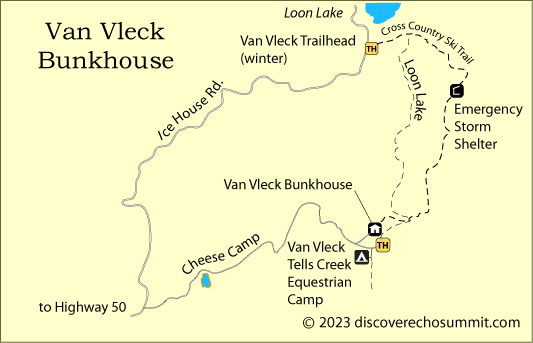 Other Passes - Other Mountain Biking Trails
Donner Summit
At the north end of Lake Tahoe around Donner Summit (Interstate 80) are miles of exciting mountain biking trails. Around the summit are Hole in the Ground and Coldstream Canyon. Lower down find the 25-mile long Pioneer Trail. For all the best mountain biking trails, see Around Donner Summit.
Carson Pass
More mountain biking trails are available along Highway 88 over on Carson Pass. The area around Silver Lake is a lot of fun to explore as are all the trails out at Blue Lakes. Kirkwood has mountain biking on its ski slopes in the summer. For all the information on mountain biking on Carson Pass, see Up and Over Carson Pass.
Ebbetts Pass
You can ride all the trails and roads around Ebbetts Pass and never get bored. The area out around Spicer Meadow Reservoir is a great place to explore as well as the Arnold Rim Trail and around Bear Valley and Lake Alpine. To learn more, visit Ebbetts Pass Adventures.
Sonora Pass
Sonora Pass (Highway 108) has an almost endless array of mountain biking routes. Pinecrest Lake is a great place to use as a base. Also the Twain Harte area has lots of old railroad grades and ditch trails worth exploring. Find all the information on Sonora Pass Vacations.