Snowmobiling around Echo Summit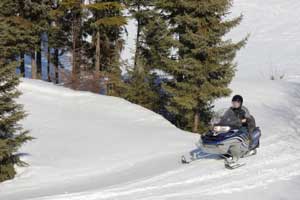 Snowmobiling is allowed on most Eldorado National Forest land whenever the snow pack is at least 12 inches deep. Snowmobiles are not allowed in wilderness areas and some areas bordering the wilderness, on groomed cross country ski trails, and alpine ski resorts. Snowmobiles are not allowed in the Loon Lake area. In some areas snowmobiles are restricted to designated roads such as around Sierra at Tahoe.
That leaves a lot of roads and acerage available for snowmobiling. Among the most popular areas are the Crystal Basin and along roads leading south toward Carson Pass, such as the Mormon Emigrant Trail Road and Silver Fork Road.
Winter Safety
Caution should always be taken when venturing out into the back country on snowmobiles during the winter. Sudden changes in conditions, break-downs, accidents, and avalanches are only some of the dangers that snowmobile drivers must consider. The inclusion of a snowmobile route in this guide does not mean that it is safe under all conditions.
Check with the Forest Service before heading out to be sure conditions are safe on the route you will be using.
Always carry emergency gear and a cell phone.
Let a responsible person know where you are going and when you will be returning.
Travel with at least one other snowmobile.
The Sierra Avalanche Center provides information about avalanche conditions in the Sierra from Yuba Pass in the north to Ebbetts Pass in the south. Visit their website at Sierra Avalanche Center.
The Humboldt-Toiyabe National Forest Carson Ranger District Winter Recreation Guide shows snowmobiling areas on the east side of Ebbetts Pass and includes a lot of good information about snowmobiling safety.
Snowmobile Circle Tracks, Sales, and Service
Snowmobiling Circle Tracks
530-542-3294
$65 per half hour with maximum 2 riders per snowmobile. Includes 2 helmets.
Kiddie Track at the Mont Bleu Track for ages 6-12, $25 for 10 minutes
2500 Emerald Bay Road at Lake Tahoe Golf Course
50 Highway 50, just north of Montbleu Casino on Lake Parkway. Inclues Kiddie Track
3021 US Hwy 50 at Tahoe Paradise Golf Course, South Lake Tahoe
Sierra Mountain Sports
2719 Lake Tahoe Blvd., South Lake Tahoe, CA
(530) 544-5449
Sierra Mountain Sports
Snowmobile sales, service, and parts
Echo Lake Sno-Park
Echo Lake Sno-Park at Echo Summit serves as a great base for cross country skiing and snowshoeing, but snowmobiling is not allowed there.
For information about Echo lake SnoPark, see, Echo Summit Snow Play.
Popular Snowmobile Routes
Mormon Emigrant Trail Road
The 25-mile long Mormon Emigrant Trail Road runs from Jenkinson Lake in Sly Park up to Highway 88, the Carson Pass highway. In the winter it is closed to wheeled traffic but open from snowmobilers. At Highway 88 the road connects with Iron Mountain snowmobile routes and the expansive Silver Bear Snowmobile Trail system. You can see maps and find more information about Iron Mountain and Silver Bear snowmobile trials on our sister website: Carson Pass Snowmobiling.
Snowmobiling on Donner Summit and
Carson, Ebbetts, & Sonora Passes
Donner Summit
At the north end of Lake Tahoe around Donner Summit (Interstate 80) are miles of spectacular snowmobile trails. Among the most popular are the areas around Prosser Hills and Little Truckee Summit. For all the great snowmobile routes, see Around Donner Summit.
Carson Pass
On Carson Pass, a few miles to the south, are four Sno-Parks along with dedicated snowmobiling routes. The Hope Valley area, a favorite with snowmobilers, is just a short drive south from Meyers on Highway 89. Find maps and complete information on Up and Over Carson Pass.
Ebbetts Pass
Not much farther south is the exciting Ebbetts Pass country with more snowmobiling opportunities. From the east side, head out from Markleeville up Highway 4 toward the high country. On the west slope take advantage of SnoParks at Lake Alpine and on the road to Spicer Meadow Reservoir. To learn more, visit Ebbetts Pass Adventures.
Sonora Pass
To the south on Sonora Pass is a great snowmobile route begining at the Sno-Park near Strawberry and winding up Highway 108 to Kennedy Meadows. Find the information on Sonora Pass Vacations.