Playing in the Snow
Echo Summit Snow Play is among the best in the state. Finding a safe and relaxing place to play in the snow can sometimes be a challenge. Fortunately for those who are close to Highway 50 and Echo Summit there are several great choices for sledding or just goofing around in the snow. At the top of Echo Summit are two developed snow play areas, Adventure Mountain and Sierra at Tahoe's Blizzard Mountain. Both have groomed sliding hills with the convenience of nearby facilities to make your day in the snow enjoyable. A third choice as the summit is to take advantage of the SnoPark.
For those who would rather not drive as far as Echo Summit, there are a number of opportunities for snow play at lower elevations. These places are dependent on the snow level and on the availability of parking.
Echo Summit Sno-Park
Echo Lake Sno-Park at Echo Summit serves as a great base for taking children to the snow. Unlike most other spots along the highway, you can be sure the lot will be plowed and there are restrooms available. The Sno-Park is on the north side of Highway 50. The parking lot on the south side of Highway 50 is now part of Adventure Mountain, a snow play area.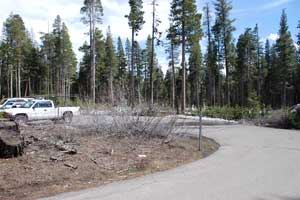 Sno-Parks are parking areas maintained in the winter to allow people to park safely and pursue winter activities such as cross-county skiing or snow shoeing. They have pit toilets available. To use a Sno-Park you must have a permit. You can purchase a day permit for $5 or an annual pass (Nov. 1 - May 30) for $25. They are good at any California, Oregon, Washington, or Idaho Sno-Park.
Near Echo Summit you can be purchase Sno-Park permits at the following places:
Kyburz Silver Fork Store 13200 Highway 50, Kyburz
Strawberry Station, 17481 Highway 50, Twin Bridges
Tahoe Roadrunner, 2933 Highway 50, South Lake Tahoe
Tahoe Bike & Ski Company, 3131 Harrison Ave., South Lake Tahoe
For a complete list of locations that sell Sno-Park permits in California, see
California Sno-Park Vendors
Permits may also be purchased online for an additional $1.95 at
Sno-Park Permits.
Adventure Mountain - 2020-2021 Season
Adventure Mountain is a snow play resort with 40 acres of machine groomed sledding and play areas. It is located immediately at the top of Echo Summit on the south side of the highway. You can bring your own sleds or rent or buy theirs. For safety reasons, wooden and metal sledding devices are not permitted. Adventure Mountain's store sells toddler's through adult's snow clothing, including boots.
COVID Modifications
Guests are required to wear masks at the resort and to social distance.
The number of cars admitted to the resort will be limited. As space permits, more cars admitted each hour.
The rental center has been moved outside.
The kitchen will now serve up a limited grab and go menu through service windows to the outside.
The lodge is closed to the public; restrooms are accessible through outside doors.
Due to Covid safety protocols limiting the amount of people allowed in the resort, non-over sized vehicles with more than 4 passengers will now be charged an additional $5 per vehicle.
Due to Covid 19 mandates, Adventure Mountain cannot allow vehicles entry containing more than 10 passengers.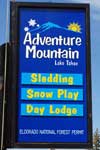 2021-2022 Vehicle Admission Entrance Fee (cash)
Weekdays (non-holiday) $40-$45
Weekends (non-holiday) $45-$50
Christmas Day $55-$60
Holiday periods $45-$50 (December 24 and December 26 - January 2, January 15 - 17, February 19 -21, 2022)
Tube, Sled and Helmet Rentals
2-Person Sled - $15 for 2 hours
Inner Tube - $35 for 2 hours
Helmet -$10 per day
Hours
Weekdays - 10:00 AM to 3:00 PM
Non-holiday weekends - 9:00 AM to 3:00 PM
Holiday periods1 - 9:00 AM to 3:30 PM
Christmas Day - 9:00 AM to 3:00 PM
Open daily December through April, weather and snow permitting
1Holiday periods: December 24 and December 26 - January 2, January 15 - 17, February 19 -21, 2022
Adventure Mountain Facilities
15 machine groomed sledding runs for sleds, saucers, or tubes
Space for building snowmen and just frolicking in the snow.
Plowed parking lot, well back from Highway 50
Day Lodge and outdoor picnic tables on a large patio
Concession stand with snacks, beverages, light lunch selections
Sled and tube rentals available, or bring your own (but no wood for metal sliding devices)
Adventure Mountain Day Lodge with store, cafe, restrooms, party room, and spectacular views of Lake Tahoe
Adventure Mountain
General Information: (530) 659-7217 Recorded Message: (530) 577-4352
Blizzard Mountain
Notice: Because of damage from the Coldor Fire, Sierra at Tahoe (including Blizzard Mountain) will not be opening until sometime in early 2022. Check their website for updates: Sierra at Tahoe.
Blizzard Mountain is a developed snow play area, part of Sierra at Tahoe ski resort. You can use their beginner sliding hill, play in the snow, and for a little extra rent a tube and take advantage of their lift and the bigger hill. The snow play area has been moved to Thunder Gulch.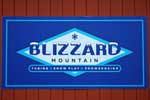 COVID Modifications
Face coverings are required in all indoor spaces, the base area, when loading / unloading a lift, as well as whenever physical distancing cannot be achieved.
Lodge capacity will be limited.
Restaurants will emphasize "grab-and-go" options. Seating will be limited.
Hours: Weekends only 10:00 AM - 4:00 PM
Prices: $20 ($25 during peak times) admission to Blizzard Mountain for snowplay
or $30 for admission + 2 hours of tubing on the tube hill with use of lift and tube rental ($40 on peak days).
2-hour Sessions from 10 AM to 12 PM, 12 PM to 2 PM, and 2 PM to 4 PM
The number of 2-hour lift tickets sold is limited, so arrive early to ensure your time slot. Children under 42 inches are free but will need to be accompanied by a paying adult.
Peak Dates: November 27-29, 2020 | December 19 - January 10, 2021 | January 16-18, 2021 | February 13-21, 2021
Blizzard Mountain Facilities
2 Tubing lanes with rope tows up the hill
Space for building snowmen, sledding on your own without lifts, and just frolicking in the snow.
Free parking and access to Sierra at Tahoe facilities
Visits from Ralston the snow bear

Blizzard Mountain
(530) 659-7453 ext. 208
Find Your Own Snow Play Area
After roads have been plowed, many small turnouts become available that give access to some nice snow play areas. Be sure to park completely off the highway. Few of these places have restrooms nearby.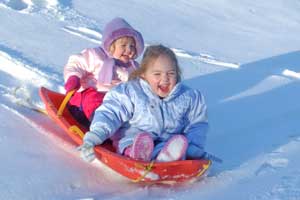 While the snow level is usually around 4,000 feet in the winter, it can vary greatly. Snow as low as 2000 feet occurs several times every winter and during warm rain periods the snow line can be as high as 6,000 or 7,000 feet.
Ice House Road
When the roads have been cleared of snow you often can find places along Ice House Road. At the end of the road at Loon Lake are parking areas, a warming hut, and restrooms.
Sly Park
When the snow level is unusually low, there are areas of National Forest land around Sly Park where you can play in the snow.
Snow Play on Donner Summit and
Carson, Ebbetts, & Sonora Passes
Donner Summit
At the north end of Lake Tahoe around Donner Summit (Interstate 80) are a number of wonderful snow play areas for children. Soda Springs is among the best in the state. Sliding hills are also found at Boreal and Tahoe Donner. To find out about all the snow play opportunities, see Around Donner Summit.
Carson Pass
On nearby Carson Pass there are four Sno-Parks and lots of little hills just right for sliding. Find the information on Up and Over Carson Pass.
Ebbetts Pass
Ebbetts Pass Scenic Byway (Highway 4) to the south has two Sno-Parks, both near Bear Valley. The Bear Valley Cross Country Ski center has a sliding hill. For casual snow play there are numerous places along Highway 4 to pull over and enjoy the snow.
Get details at Ebbetts Pass Adventures.
Sonora Pass
Farther to the south on Sonora Pass is Leland High Sierra Snow-Play area, a developed sliding hill complete with a lodge, sliding equipment, and even lifts. All the information is on
Sonora Pass Vacations.