The Crystal Basin
The Crystal Basin spreads over about 85,000 acres north of Highway 50 and west of the Desolation Wilderness. Spectacular views of the Crystal Range can be seen from many places throughout the basin. The Crystal Range extends north from prominent Pyramid Peak (9963') along an 11-mile ridge, which includes Mt. Price, Red Peak, and Silver Peak.
The Crystal Basin Recreation Area is a joint development between the Sacramento Municipal Utility District (SMUD) and the Forest Service. SMUD operates a series of reservoirs and hydroelectric powerhouses which furnish energy to about 180,000 homes in the Sacramento area.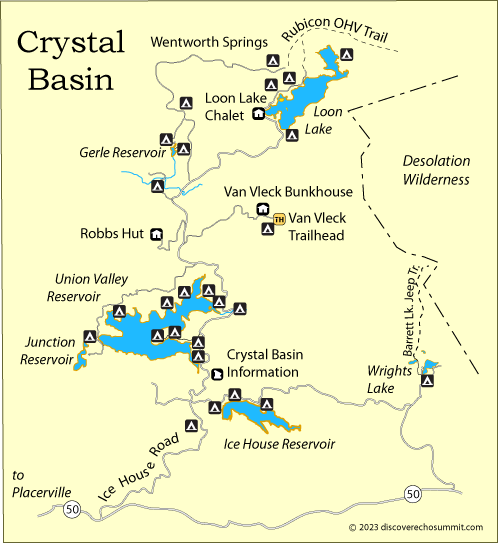 Five lakes and reservoirs in the Crystal Basin are the focal points of most recreation in Crystal Basin. The largest, Union Valley Reservoir, has 2,890 surface acres and 24 miles of shoreline. Other lakes include Ice House Reservoir, Loon Lake, Gerle Reservoir, and Wrights Lake.
Crystal Basin Recreation
Camping
Campgrounds are located around all the lakes and on a few of the rivers. More than 700 campsites are available during summer and fall months. Many sites can be reserved. Besides traditional campgrounds there are a number of group campsites, equestrian camps, and even boat-in campgrounds. Three Forest Service cabins are available to rent in the Crystal Basin - the Loon Lake Chalet, Robbs Hut, and the Van Vleck Bunkhouse.
Boating
Boating is popular at all of the lakes. Paved ramps are found at Ice House Reservoir, Union Valley Reservoir, and Loon Lake. Those three lakes allow all kinds of boating and water sports. Wrights Lake has dirt launch ramps. Only non-motorized boats are allowed at Wrights Lake and at Gerle Reservoir.
Fishing
Anglers enjoy fishing in the Crystal Basin lakes and streams. German brown trout and rainbow trout are caught in all the lakes. Union Valley Reservoir is also known for smallmouth bass, Mackinaws, and Kokanee salmon. Kokanees are also found in Ice House Reservoir. Silver Creek and Gerle Creek are known as good places to fish for smaller brook trout.
Bicycling
The Crystal Basin has opportunities for both road cyclists and mountain bikers . At Union Valley Reservoir a paved 5.5 mile bike trail winds along the edge of the lake. At Ice House Reservoir a well-packed dirt bike runs for 3.1 miles runs among the campgrounds. Cyclists also enjoy riding Ice House Road. Mountain bikers find plenty of dirt roads and trails to enjoy.
Horseback Riding
Miles of trails for horseback riders criss-cross the Crystal Basin. Several trailheads serve as jumping off places for trips into the Desolation Wilderness. A number of equestrian camps provide great staging areas for some of the best riding trails in the basin.
Hiking
Day hikers and backpackers have a host of trails to follow. Main trailheads at Wrights Lake and Loon Lake lead off into the spectacular Desolation Wilderness. Other trails within the basin include nature interpretive trails, short hikes to waterfalls, and strolls to viewpoint summits.
OHV
The Crystal Basin is the starting point for one of the most famous OHV routes in California, the Rubicon Trail. 4-wheelers gather at one of two staging areas, Wentworth Springs or Loon Lake. Another popular OHV route in the Crystal Basin is the Barrett Lake Jeep Trail near Wrights Lake.
Cross Country Skiing
The entire Crystal Basin is open to cross country skiing and snowshoeing in the winter, but Loon Lake in particular has been set aside as a cross country center. Snowmobiles are not allowed there. Marked trails lead out in different directions, some easy loops, others strenuous all-day tours. A public warming hut is located at the lake.