Resorts and Lodges
Only a limited choice of lodges are available for visitors along the Highway 50 corridor from Pollock Pines to Echo Summit. Visitors should make reservations early to ensure lodging for desired dates. The Echo Chalet has a number of Chaletlees which it rents during the summer. Farther west the Strawberry Lodge is a well-known stopping place in both summer and winter. In the Crystal Basin the Ice House Resort has motel rooms available.
Echo Chalet
Echo Chalet, on the shore of Echo Lakes at the top of the pass, operates in the summer, offering rental cabins, a marina, boat taxi service, a post office, store, soda fountain, and deli. They will hold packages for Pacific Crest Trail hikers for a limited time.
9900 Echo Lake Road, Echo Summit, CA 95721
(530) 659-7207 (8 AM - 6 PM, summers only) Echo Chalet
Marina Services
All boats are required to be inspected for nuisance plants and mussels and may only be launched during operating hours. Motor boats must be 4-stroke or direct fuel-injected 2-stroke engines (such as Evinrude Ficht or E-Tec).
Launch Ramp: Open for public use during high water conditions. Trailered or motorized boats $20, car-top or inflatables (non-motorized) $10, canoes and kayaks $5
Boat Service: Routine service, plus warranty work on Bombardier, Evinrude, and Johnson marine products.
Fuel, oil
Canoe and kayak rentals
Taxi Service: Echo Chalet to landing at north end of upper lake and to cabins around the lakes. $12 per person each way, dogs $5
Accommodations
Echo Chalet's Chaletlees are cabins built in 1947. Most have kitchenettes with a small refrigerator. All have bathrooms. There are no TVs, telephones or microwaves. The cabins are on the hillside above Echo Lake. Prices shown do not include taxes. There is a 2 night minimum stay.
Chaletlee 7, 8, and 9: duplexes, sleep 2, $229 for 2 nights
Chaletlee 3, 4, and 10: duplexes, sleep 4, $350 for 2 nights
Chaletlee 11: sleeps 2 + futon, $495 for 2 nights
Chaletlee 12: detached kitchen, sleeps 2 + hide-a-bed, $493 for 2 nights
Strawberry Lodge
Strawberry Lodge is situated at Strawberry, along the American River at the foot of famous Lover's Leap, At an elevation of 5,700 feet, the lodge is 39 miles east of Placerville and 9 miles from Echo Summit. Strawberry Lodge features accommodations, a restaurant and bar, and gardens.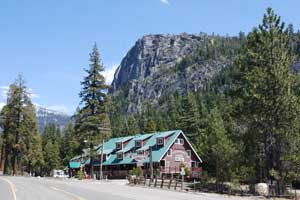 17510 Highway 50, Kyburz, CA
(530) 659-7200 Strawberry Lodge
Accommodations
The lodge offers both European Style rooms with shared single-sex men's and women's bathrooms down the hall and also rooms with bathrooms. In the Annex all rooms have private bathrooms. There are no TVs or telephones and outside food or beverages might not be brought into the lodge. Weekend rates are shown below. Mid-week rates are $30 and some holiday rates are $10 higher per night.
European Style Rooms for 2: $85 - $95 per night
European Style Rooms for 3: $95 per night
Standard Lodge Rooms for 2: $115 per night
Standard Lodge Rooms for 4: $140 - $160 per night
Standard Lodge Rooms for 5 - 6: $185 - $190 per night
Annex Rooms for 2 - 4: $150 - $160 per night
Ice House Resort
Ice House Resort is at 5,400 feet, one and a half miles west of the dam at Ice House Reservoir. The resort is open from mid-May through mid-October.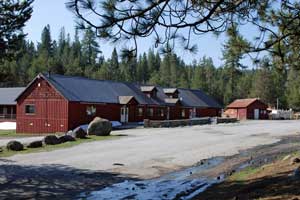 9000 Ice House Road, Pollock Pines, CA
(530) 293-3321
Resort Facilities:
Free boat ramp, RV and tent camping, motel rooms, laundry, store, restaurant.
Accommodations
RV Sites: $30 per night for 4 people, $400 per month
Tent Sites: $15 per night for 4 people
Group Campsite: $150 per night - 50 people
Motel Rooms: $71.50 - $88 per night