Cycling Echo Summit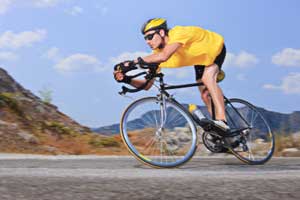 The Highway 50 corridor leading over Echo Summit has a number of excellent bicycle routes, some steep and challenging, others gentle pedals along lake sides. Cyclists who like to test their endurance follow the old Meyers Grade Road up to Echo Summit. Those looking for a slightly easier ride head out into the Crystal Basin on Ice House Road.
At Union Valley Reservoir and some of the other lakes are developed bike paths, great places for families to take relaxed rides around the lakes.
Meyers to Echo Summit, Via Old Meyers Grade Road
Distance: 2.6 miles one way to Johnson Pass (Echo Summit)
Elevation changes: +1,200 feet (6,350' - 7,550')

Avoid Highway 50 and ride up lesser used roads, making the classic climb from Meyers in the South Lake Tahoe area to Echo Summit. Then relax at the resort by Echo Lakes and enjoy a cold drink before making the descent.
Starting Point: South Upper Truckee Road and Highway 50
Ride south on Upper Truckee Road for a quarter mile and turn right onto Old Meyers Grade Road. Follow it all the way up to Johnson Pass at Echo Lake Road. Then add another mile by following Echo Lake Road down to the Echo Chalet at the edge of Lower Echo Lake for a well earned break.

Placerville to Meyers
Distance: 54 miles one way
Elevation changes: +5,377 feet (2,000' - 7,377')

This is the big ride on Highway 50 over Echo Summit. Get organized in Placerville and then head out on Highway 50 going east. Expect moderate grades the first 30 miles and then averaging about 3.5% over the next 18 miles.
Starting Point: Placerville
Highway 50 climbs steadily out of Placerville all the way to Union Hill around mile 14 and then makes a short descent to the area around the Pacific Ranger Station. Steady climbing begins again as the road joins the river and follows close along its bank up the narrow canyon. Kyburz, the Forty-two Mile Picnic Area, and Strawberry all make good stopping places as you approach the summit.
Once at Echo Summit consider the short sidetrip to Echo Lakes for lunch. Also consider taking the Old Meyers Grade Road down to Meyers rather than narrow and busy Highway 50. From Meyers it is only a short ride to South Lake Tahoe. Worn out? Consider using Wanna Ride to shuttle you back up to the summit before coasting back to Placerville.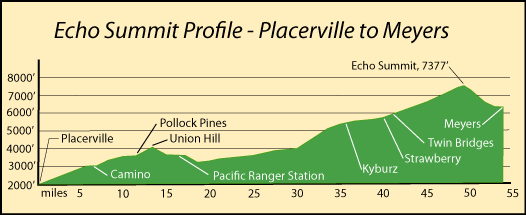 Mormon Emigrant Trail - Sly Park to Iron Mountain
Distance: 26 miles one way
Elevation changes: +4,000 feet (3,500' - 7,500')

Enjoy the quiet beauty of the Mormon Emigrant Trail road leading from Sly Park up to Highway 88 near Iron Mountain. The road does not see a lot of traffic, except on peak summer weekends when it becomes moderate. The road is closed during the winter and may not be fully plowed until early summer.
Starting Point: Sly Park Post office
Ride 1 mile north on Sly Park Road and turn right onto Mormon Emigrant Trail. The route passes around Jenkinson Lake and then begins a steady climb to the top. At mile 22 bypass the Silver Lake Road which leads back down to Highway 50. Once you reach the top, consider riding an extra mile east on Highway 88 to the Shot Rock Overlook where you will find picnic tables and a panoramic view of the Sierra.
Or continue all the way to Silver Lake as shown on this Chain Reaction website: Pollock Pines to Silver Lake.
Ice House Reservoir to Loon Lake
Distance: 21 miles one way
Elevation changes: Total climb +3,400 feet (range 4,900' - 6,500')

Make a tour of the Crystal Basin by riding from Ice House Reservoir, past Union Valley Reservoir, and all the way to Loon Lake. Shorten the ride, and greatly lessen the difficulty, by turning around at the Rubicon River crossing rather than going all the way to Loon Lake. The last 6 miles of the route beyond the Rubicon climbs a steep 1,300 feet.
Starting Point: Ice House Reservoir
The first 8 miles drops several hundred feet over up and down terrain to Union Valley Reservoir. Then a steady climb takes you to a ridge near Robbs Peak at mile 12. There is a fire lookout on Robbs Peak you can visit (3 miles up on dirt road). Beyond Robbs Peak the road drops to the Cosumnes River before beginning its final big push to Loon Lake.
Ice House Bike Trail
Distance: 3.1 miles one way
Elevation changes: Total climb +80 feet (range 5,400' - 5,480')

The Ice House Bike Trail is a dirt trail along the shores of Ice House Reservoir. It can be accessed from any campground around the lake.
Starting Point: Ice House Road and Forest Road 12N06 (200 yards north of Big Hill Lookout turnoff)
The scenic trail follows ridges and shaded northern slopes, offering views of Ice House Reservoir and some peaks along the Crystal Range. The bike trail ends at Strawberry Campground. Ice House Bike Trail connects with other roads in the area.
Union Valley Bike Trail
Distance: 5.5 miles one way
Elevation changes: Total climb +200 feet (4,860' - 5,160')

This paved bike trail connects all the campground on the east side of Union Valley Reservoir from Jones Fork Campground to Tells Creek.
Starting Point: Jones Fork Campground
Ride north to Sunset launch ramp area and then round the east shore to Big Silver Group Campground where a 109-foot long bridge crosses Big Silver Creek. Continue north past Wench Creek and on to Tells Creek where another bridge is found.
Other Passes - Other Cycling Routes
Donner Summit
At the north end of Lake Tahoe Donner Summit (Interstate 80) has more roads for cycling. The classic climb from Donner Lake up across the Rainbow Bridge to old Donner Pass is one of the best in the Sierra. For more great cycling routes, see Around Donner Summit.
Carson Pass
Ride south on Highway 89 out of Meyers and find yourself on Carson Pass (Highway 88). There you'll find a host of other bicycle routes such as the ride out to Blue Lakes, the scenic climb over Carson Pass, and past beautiful places such as Caples and Silver lakes. For more information about cycling on Carson Pass, see Up and Over Carson Pass.
Ebbetts Pass
Continue south on Highway 89 and you reach Markleeville, the gateway to the spectacular Ebbetts Pass country. Home to the famous Death Ride, the climb up Ebbetts Pass is about as dramatic as you will find. Or for easier routes ride out to Spicer Meadow Reservoir or around Bear Valley and Lake Alpine. To learn more, visit our sister website Ebbetts Pass Adventures.
Sonora Pass
Sonora Pass (Highway 108) has gentle rides in the vicinity of Pinecrest Lake or Dardanelles and Kennedy Meadows. For those looking to challenge themselves, the ride over Sonora Pass will not disappoint. Read about it all on Sonora Pass Vacations.