Echo Summit Fishing
The streams and lakes along either side of Highway 50 as it climbs to Echo Summit are some of the best fishing waters in the Sierra. For enjoyment and access, the Crystal Basin is hard to beat. Big reservoirs such as Union Valley and Ice House allow motorized boats, great for trolling and moving quickly from place to place on the lake. Other lakes such as Wrights Lake and Gerle Reservoir are limited to non-motorized boats, making them ideal for shore fishing and light boats like kayaks.
Countless streams tumble down from the Sierra crest, providing miles of exciting stream and river fishing. Hiking into the Desolation Wilderness can take you to a host of good fishing locations. Even for day trips into the wilderness you will need a permit. Free day permits can be picked up at most trailheads. Overnight wilderness permits must be obtained online or from Forest Service offices.
Fishing Regulations
Be sure to check the California Freshwater Sport Fishing Regulations for the area before setting out.
Crystal Basin Fishing
Union Valley Reservoir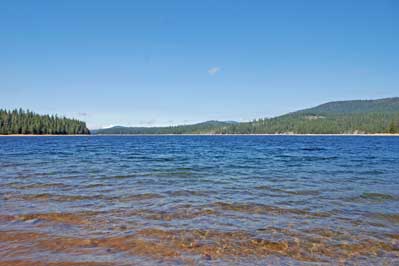 Union Valley Reservoir rests at an elevation of 4,900 feet. Its 2,890 surface acres spread among beautiful forests and granite peaks. Motorized boats are allowed on the lake. Free Launch Ramps are located at Sunset Campground, Yellowjacket Campground, and Westpoint Campground. Fishing is excellent for smallmouth bass, Mackinaw trout, rainbows, German browns, and Kokanee salmon.
Trollers have good success along the dam and sometimes near the powerhouse. Bass have been caught regularly around the inlet and close to underwater structures near Yellowjacket Campground. Anglers also report good success in all the inlets and coves, near the Sunset Campground and its ramp, and along the south shore.
Popular baits and lures include nightcrawlers or M-2 flatfish behind flashers, J-Plugs, UV Pro Glo spinners, needlefish, spoons, Rapalas, Rebels, and Crystal Basin Tackle's Wild Thing. Fly fishermen like the old favorite woolly bugger.
Ice House Reservoir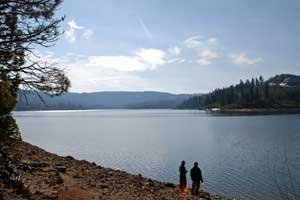 Ice House Reservoir's 678 surface acres are a favorite destination for anglers. All kinds of boating are allowed in the lake. A paved, free Launch Ramp is located at Ice House Campground. Fishing is excellent for rainbows trout, brook, and big German browns. Some Kokanee salmon are also found in the lake.
Trollers do well near the dam and along the south shore. Shore fishing can be good near the dam and all the campgrounds along the north shore and near the inlet from Silver Creek.
Baits and Lures: Trolling with lures behind flashers, inflated nightcrawlers, Rapalas, Rebels, needlefish, cripplures. Down riggers are often used in the summer as the water warms.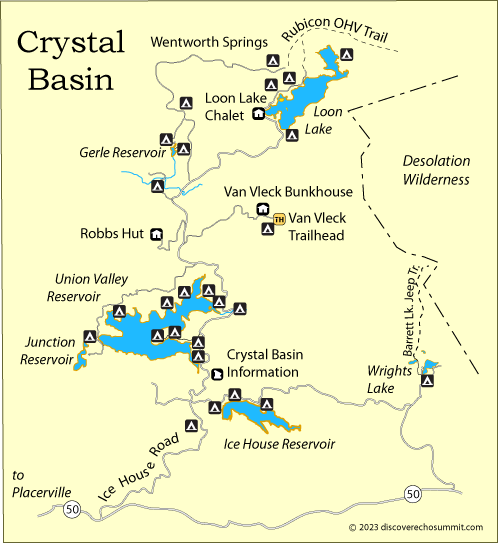 Loon Lake
988-acre Loon Lake is at an elevation of 6,500 feet, 29 miles north of Highway 50. A paved, free Launch Ramp is located at the Loon Lake Campground. The northeastern-most portion of Loon Lake was once Pleasant Lake, until the reservoir's waters overtook it. Fishing is very good for rainbow trout.
Most anglers prefer to fish Loon Lake trolling from boats. Some of the best fishing is at the eastern end of the lake in the old Pleasant Lake area. Other good areas are near the dam, and around the islands.
Baits and Lures: nightcrawlers, marshmallows, Power Bait, trolling with cripplures, Sling Blades with dodgers, and Rapalas.
Wrights Lake
Wrights Lake is at 6,900 feet, only a couple of miles west of the Desolation Wilderness. The 65-acre lake is less than a mile long. Only non-motorized boats are allowed on the lake. There is a canoe pier (rock and dirt filled) for hand-launched boats. Fishing is very good for rainbow trout.
Fishing from shore is good in the cove to the right of the boat launch area. Also success has been reported at the eastern end of the lake. Nearby Dark Lake also has good shore fishing for rainbows.
Baits and Lures: Kastmasters, super dupers, worms, Power Bait. Fly fishermen report success with elk hair caddis and Adams #16.
Gerle Creek Divide Reservoir
Gerle Reservoir covers 50 acres and has good access all around the lake for fishing. There is a wheelchair accessible fishing platform. Only non-motorized boats are allowed on the lake. Float tubes are often used here. Fishing is fair for brown and rainbow trout.
One of the best fishing locations is where the creek spills into the reservoir. Also try to east side of the lake. Gerle Creek is known for its wild brook trout.
Baits and Lures: Nightcrawlers, Mepps Syclops, Daredevle Skeeter, Power Bait, marshmallows. Fly fishermen have done well with black gnats and #16 Quill Body PMD.
Crystal Basin Fly Fishing Streams
Silver Creek - Entertaining fishing above Union Reservoir for small fish once the spring runoff has settled down.
Gerle Creek - Good fishing for brown and brook trout.
Echo Lakes and Desolation Wilderness Fishing
To fish the Desolation Wilderness requires at least a short hike. From the Highway 50 corridor up to Echo Summit the wilderness can be accessed via trails from the Crystal Basin, along Highway 50 near Kyburz and Strawberry, and Echo Lakes. At Echo Lakes the Echo Chalet operated a boat taxi in the summer to the far end of the upper lake, making it convenient for day trips into the Desolation Wilderness without much hiking.
Echo Lakes
The two Echo Lakes are a great fishing destination. At an elevation of 7,415 feet they often don't clear of snow and ice until sometime in May. Fishing is good for Kokanee salmon, Lahontan cutthroat trout, brook, and rainbows.
Echo Chalet offer canoe and kayak rentals and marine services, including repairs and fuel. The also operate a Launch Ramp: . Boat inspections for invasive plants and animals prior to launch. Trailered or motorized boats launch fee $20, car-top or inflatables that are non-motorized $10, canoes and kayaks $5.
Baits and Lures: Trollers do well with a silver Jake's Spin-o-lure, Rebel Minnow, Rapala Countdowns, Torpedos. Shore casters report success with Kastmasters, super dupers, Power Bait, nightcrawlers, and Panther Martins.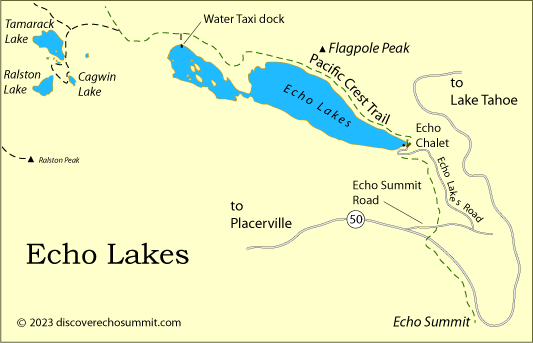 Fish Being Removed from Several Wilderness Lakes
In order to protect the habitat of the endangered Yellow-Legged Frog, the Forest Services is removing trout from Tamarack, Ralston, Cagwin, Lake Margery, Lake Lucille, Lake Le Conte, and Lake Jabu.
Lake of the Woods
Lake of the Woods requires a more strenuous hike from the upper end of Echo Lakes (after a ride in the boat taxi). A tough 2½-mile hike involving a thousand feet of elevation gain and then several hundred feet of descent brings you to the lake. Although it is a popular destination, it has a good supply of big fish thanks to an abundance of food. Fishing is very good for brook trout.
Work the reed areas, the inlets, and the western shore.
Baits and Lures: Panther Martins, L'il Jakes, Rooster Tails, salmon eggs. Fly fishermen report success with Adams #16, black gnats, and Joe's Hopper.
Other Desolation Wilderness Lakes
Secret Lake - Take the Grouse Lake trail from Wrights Lake, but turn and make a cross-country jaunt to rarely visited Secret Lake and fish for brook trout.
Rockbound Lake Backpack 6 miles from Loon Lake to Rockbound Lake and fish for brown, brook, and rainbow trout. Try the nearby smaller lakes too.
South Fork American River and Silver Fork
The South Fork of the American River has its headwaters at Echo Summit at about 7,400 feet in elevation. From the summit it rushes unfettered down the western slope of the Sierra through a deep canyon for 40 miles until finally being backed up in Slab Creek Reservoir north of Camino. For most of those miles Highway 50 parallels the river, giving anglers easy access to much of its length. Fishing is very good in many places for rainbow and brook trout.
The river is fairly heavily fished in places where visitors have easy access to the water, such as near campgrounds, picnic areas, and turnouts. Find your best fishing by seeking out pools and riffles away from the more commonly fished spots. Above Kyburz, although the river is more of a stream, there are some good places. Wherever approaching the river is more difficult, the fishing will likely improve. During high water from the spring runoff fishing is poor, as well as later in the year when the water becomes too warm.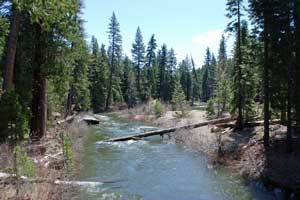 The Silver Fork (shown right), which flows down from southeast near Kyburz, is often better fishing than on the main river. Fly fishermen like to explore the remoter sections of the Silver Fork, fishing the quiet places for native brook trout. Its flow is regulated by releases from Caples Lake and Silver Lake so it tends to avoid the wild spring runoff.
The Day Use area at China Flat is a great place to fish the Silver Fork. Keep an eye out for unexpected changes in the flow.
More Fishing Destinations
Dave's Sierra Fishing

Dave's Sierra Fishing has dozens of great fishing destinations in the Sierra, including many in El Dorado County. You'll find all the information on Dave's Sierra Fishing.